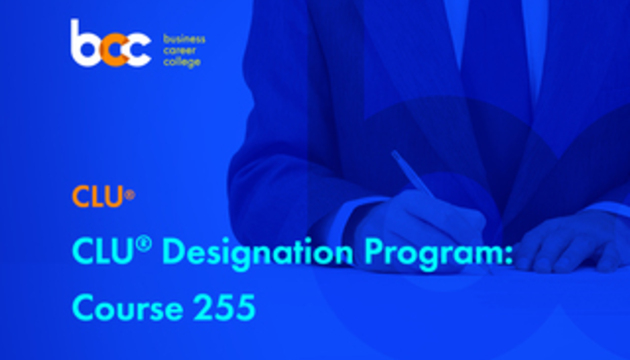 CLU Designation Program Course 255 (Recorded Webinars)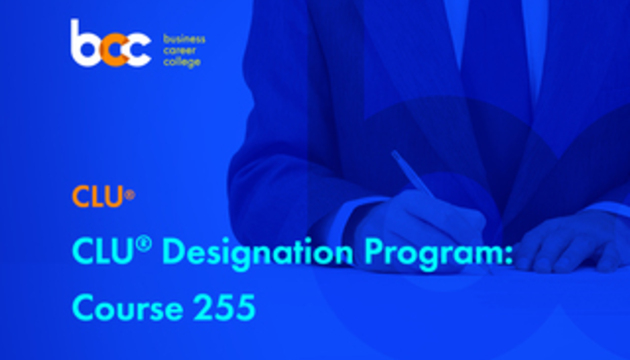 Description
Advanced Concepts in Tax & Law for Personal Planning
Wealth transfer and estate planning strategies for individuals and families
Use of life insurance and living benefits to manage personal risks and wealth preservation
Creation of trusts and other instruments to ensure the orderly transfer of individual wealth
Examination of the special tax reporting obligations facing individuals who enter or leave Canada
Registration into these webinars does not provide access to course materials or exams
CLU Designation Program
The Chartered Life Underwriter (CLU®) certification provides the education needed to differentiate your practice in complex wealth transfer and estate planning. It's considered an elite certification and is widely respected in the financial services industry.
The CLU certification is conferred in Canada exclusively by The Institute for Advanced Financial Education and course materials are provided by Advocis. BCC supports students taking this course by providing live or recorded webinars to aid in learning.
What's Included?
What's Not Included?
Registration into Course 255 with Advocis - students must register with Advocis separately for materials & exams
Prerequisites
The BCC Core Curriculum course or the Advocis Financial Planning Fundamentals Program for CLU® Certification. Advocis charges a fee to assess prerequisite equivalencies.The prerequisite is waived for candidates who have completed their Certified Financial Planner® (CFP®), Qualified Associate Financial Planner™ (QAFP™) certification or an approved accounting certification. Financial planning, insurance, or other relevant professional certification or accreditation is recommended.
4 years of experience within, or related to, the financial services industry.
Course Outline
Wealth transfer and estate planning strategies for individuals and families
Use of life insurance and living benefits to manage personal risks and wealth preservation
Creation of trusts and other instruments to ensure the orderly transfer of individual wealth
Examination of the special tax reporting obligations facing individuals who enter or leave Canada