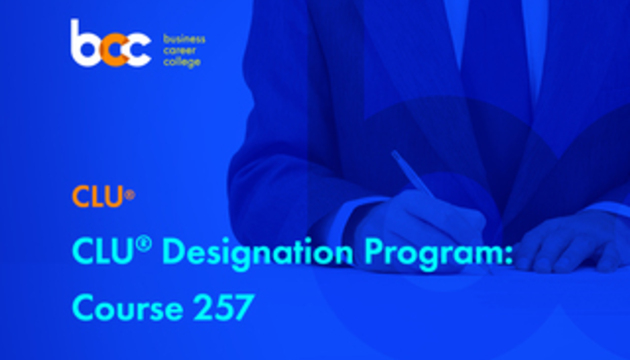 CLU® Designation Program Course 257 (Learning Resources)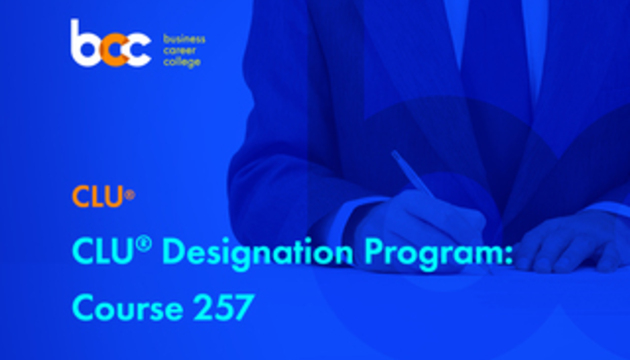 Description
Advanced Estate Planning
Analysis of a client's financial status and overall estate planning objectives
Explain the advantages and disadvantages of different estate planning strategies
Consider planning strategies involving the use of inter vivos and testamentary trusts
Assess the need for life insurance to support the estate plan and recommend alternative insurance strategies
In 2021, Advocis will update the assignment structure for Course 257. The BCC instruction will reflect this change for our Fall 2021 instruction, but the recording available for the Spring 2021 will not cover the second assignment or the new Ethics & Professional Standards.
CLU Designation Program
The Chartered Life Underwriter (CLU®) certification provides the education needed to differentiate your practice in complex wealth transfer and estate planning. It's considered an elite certification and is widely respected in the financial services industry.
The CLU certification is conferred in Canada exclusively by The Institute for Advanced Financial Education and course materials are provided by Advocis. BCC supports students taking this course by providing live or recorded webinars to aid in learning.
What's Included?
What's Not Included?
Registration into Course 256 with Advocis - students must register with Advocis separately for materials & exams.
Registration must be completed by July 15, 2021 for the Fall 2021 live webinars
Prerequisites
The BCC Core Curriculum course or the Advocis Financial Planning Fundamentals Program for CLU® Certification. Advocis charges a fee to assess prerequisite equivalencies.
The prerequisite is waived for candidates who have completed their Certified Financial Planner® (CFP®), Qualified Associate Financial Planner™ (QAFP™) certification or an approved accounting certification. Financial planning, insurance, or other relevant professional certification or accreditation is recommended.
4 years of experience within, or related to, the financial services industry.
Course Outline
Analysis of a client's financial status and overall estate planning objectives
Explain the advantages and disadvantages of different estate planning strategies
Consider planning strategies involving the use of inter vivos and testamentary trusts
Assess the need for life insurance to support the estate plan and recommend alternative insurance strategies