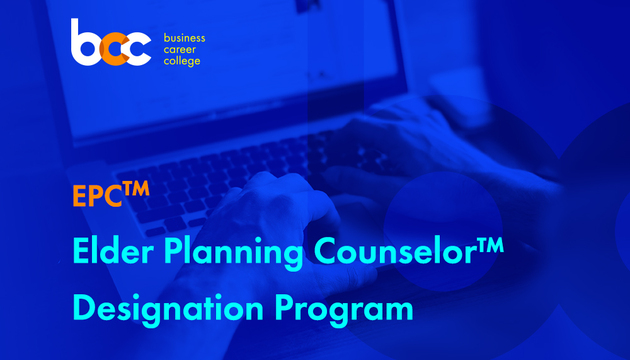 Elder Planning Counselor™ (EPC™) Designation Program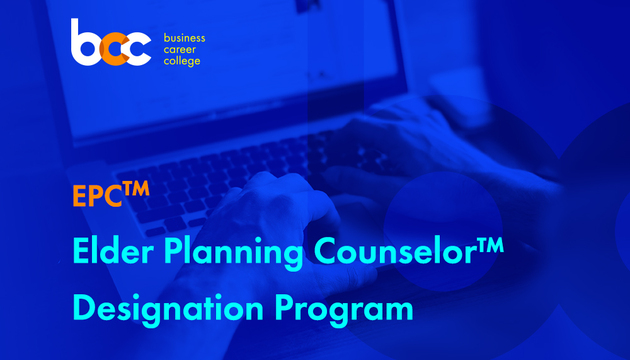 Description
The Elder Planning Counselor (EPC™) course provides education for professionals working with clients over 55 in many different fields, including financial planning, insurance, accounting, funeral planning, social work, and nursing.
The course is designed to help you understand the issues facing the elder population and prepare you to plan solutions for their well-being.
BCC is authorized to offer seminars and webinars that will help in obtaining this designation by the Canadian Initiative for Elder Planning Studies (CIEPS).
Students attending the live instruction take the exam on the last day. Distance learning students can schedule a time to take the exam at a seminar or testing centre, such as BCC.
What's Included?
3.5 Days Live Webinar Instruction or Distance Learning Recordings*
4 Book Desk Reference Set
Student Workbook
Final Exam
Schedule (08:00-17:00 MT)
Nov 5, 12, Dec 3 & 10
2022 Schedule TBD
*Distance learning students also receive a set of scripted EPC faculty PowerPoint slides.
Course Outline
Aging & Health Issues
Social & Psychological Issues
Financial Issues
Communication & Other Timely Issues